This toolkit provides an overview of Query HIE to assist providers in adopting this Health Information Exchange (HIE) method, which leverages the Query-based Exchange method to improve health care. The content was developed with input from the 2019 Query HIE Learning Collaborative.
Query HIE Networks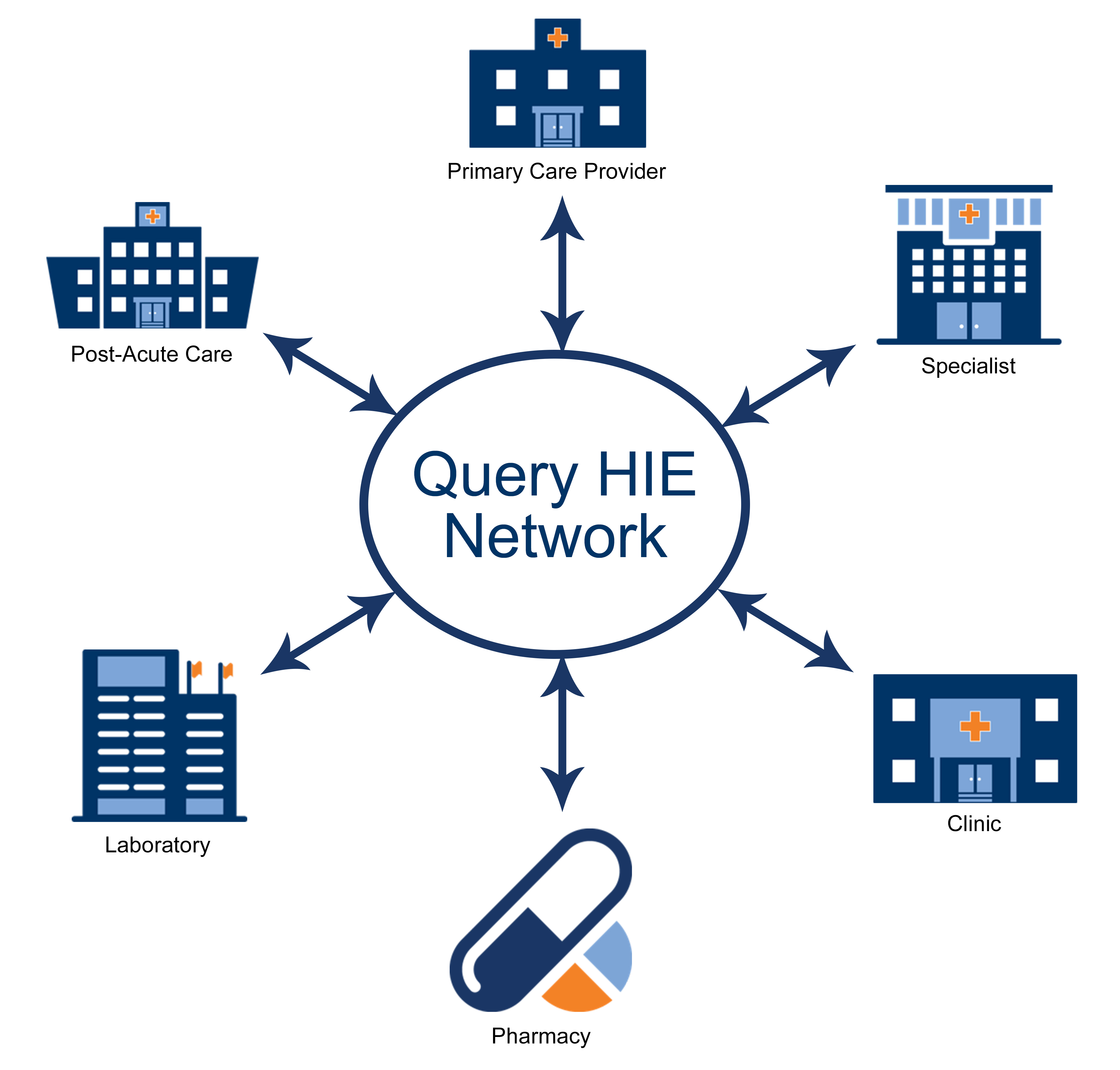 To participate in Query HIE, a provider's EHR vendor first needs to incorporate a Query HIE Network that connects providers who are willing to exchange information via Query HIE.
A Query HIE Network offers the participating providers the functionality needed for Query-based Exchange of patient health information.
In recognition of the potential of Query HIE to improve healthcare, there are many private and public initiatives that work on making Query HIE functionality widely available. The most used public initiatives include Carequality and Commonwell, which are highlighted below.
The effectiveness of a Query HIE Network depends on how many providers participate in the network. The more providers that make information available on the network, the better the network works.
Some of the initiatives collaborate with each other to connect their Query HIE Networks together, as combining their networks will enable their participants to exchange health information with many more providers across both networks.
EHR and Clinical System Vendors
How you can participate in Query HIE depends on your EHR or other clinical system vendor. If the vendor has their own Query HIE Network, implemented Carequality, and/or is connected to Commonwell, you can quickly gain access to a large network.
If a connection to a Query HIE Network is not yet in place, you can consider working with the vendor to establish a connection. To make that work seamlessly, your vendor will have to conduct an integration project so the health information can be queried by and pulled from your system by the network.
Some vendors support Query HIE functionality but only in their more recent version release(s). If this is the case, you will have to conduct an upgrade project to get onto the latest release.
The "Vendor Status Directory" tab provides an overview of the EHR and clinical system vendors who have adopted Query HIE. This includes details on the functionality they provide and whether they are members of Carequality and/or Commonwell.
Public Initiatives
The two most commonly used and widespread public initiatives to create large Query HIE Networks include: 
Carequality is an initiative that provides a framework of common standards and rules to Query HIE implementers. For instance, Epic has implemented its Query-based Exchange solution based on this framework, and its users have been able to conduct Query HIE within the Epic universe for several years.

Commonwell Health Alliance is a consortium that provides Query HIE services to users of other EHR products, including Cerner, Meditech, or Athenahealth, for example. Commonwell adopted the Carequality framework and its users can now exchange information with EHRs that have incorporated Carequality.
Both initiatives consisted of a wide network of members. With Commonwell's adoption of the Carequality framework, they significantly increased the accessibility to patient information. Their members can now enable a connection to Carequality, allowing them to bilaterally exchange data with providers who implemented Carequality.
More detail on how these two initiatives operate follows below.
Carequality
Carequality is referred to as a network-to-network trust framework. The initiative is not a Query HIE Network and does not supply Query HIE capability. Instead, it provides a framework of standards and rules to implement Query HIE. Its members implement the standards and rules to exchange patient records via connected HIE networks. As such, these members make up Carequality's Query HIE Network.
The framework can be used by EHR and other clinical system vendors to implement a standardized Query HIE solution, regardless of the HIE network they already belong to, including federal and state based government networks. A number of vendors have integrated the framework into their system.
The goal of the Carequality initiative is to link all the HIE networks in the same way the cellphone carrier networks are linked. Carequality's framework creates a common legal structure that all members of the networks adhere to.
Carequality also provides and enforces the use of technical specifications and standards: message types, meta-data requirements, and data formatting and codeset rules. Epic and Commonwell Health Alliance are members.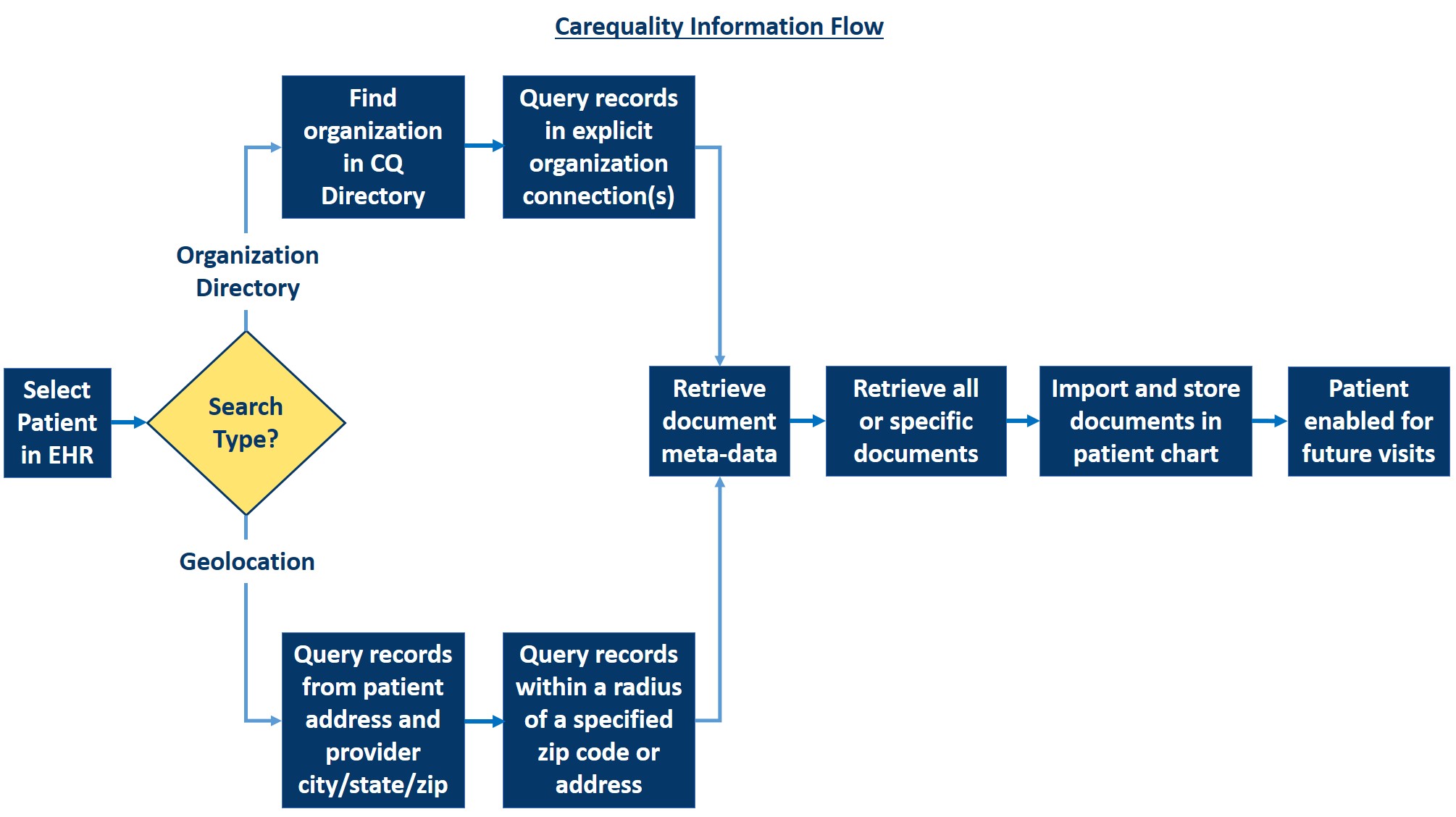 Carequality's Provider Directory
Carequality maintains a Provider Directory. Providers listed in Carequality's Provider Directory can search the directory to request a patient record from any other provider listed in the directory. This directory includes all providers who use either:
Carequality-enabled EHRs, or
Commonwell-enabled EHRs with an activated Commonwell - Carequality Connection (explained below)
To learn more about Carequality, click here.
Commonwell

Commonwell Health Alliance is an actual Query HIE Network. The network was designed to simplify the exchange of patient records and to make the records available when they are needed. Commonwell provides Query HIE functionality that EHR vendors can integrate into their EHR systems. This consists of a Record Locator Service, a set of Patient Linking and Identification algorithms, and a document query and retrieval broker/accelerator service. This functionality includes the Query, Select, and Retrieve features required for Query HIE.
Providers must implement a patient enrollment workflow process to add a patient to the Record Locator database. This allows you to search for a patient by various demographic data. Once the patient is matched, you are shown the list of documents available for the patient. You can then review these documents and decide which to incorporate into your patient's record.
Only patient records from providers who have also signed up for query service will be visible in the search. Furthermore, patients must consent to their records being made accessible for Query HIE.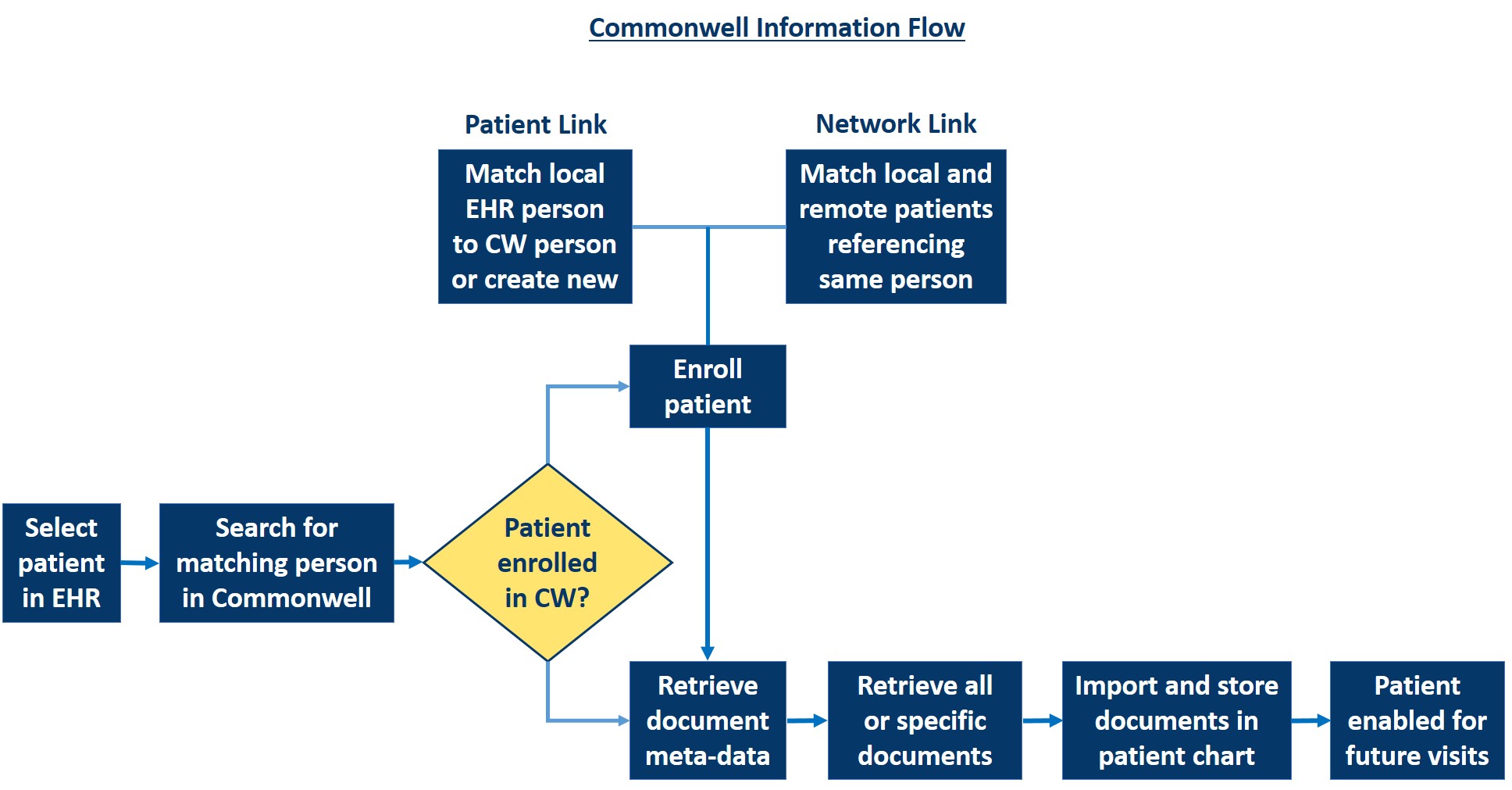 Commonwell - Carequality Connection
In addition, Commonwell is a certified implementer of the Carequality framework for query-based document exchange. Commonwell offers providers the opportunity to opt-in to a service called Carequality Connection. This service allows Commonwell providers to connect and bilaterally exchange patient health data with Carequality-enabled healthcare provider sites.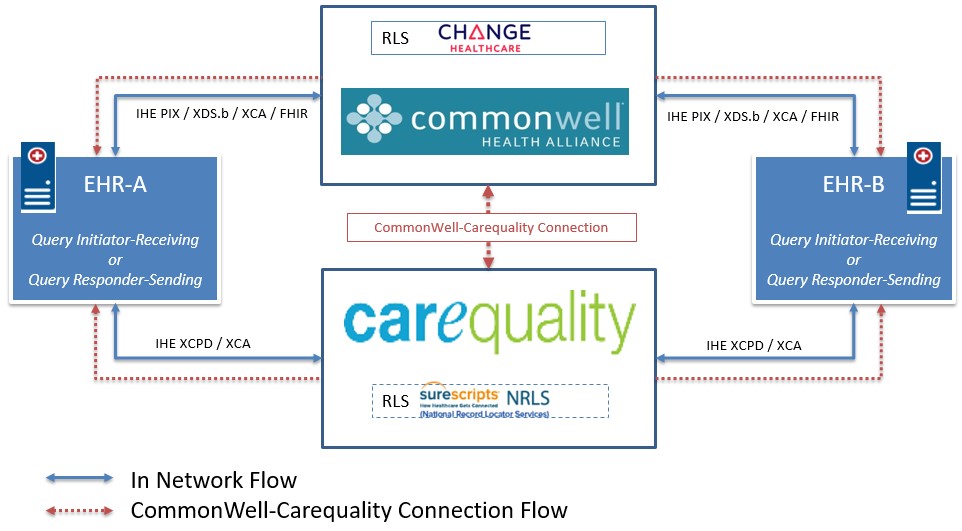 Commonwell-enabled EHR Vendors who Participate in the Connection
Visit the Commonwell Members page and look for the "Connectivity to Carequality Available" flags to see the EHR vendors who participate. These EHR vendors include Brightree, Cerner, Evident, Greenway Health, and MEDITECH
The method of activation of the Commonwell - Carequality Connection will vary by EHR vendor. At a minimum, a provider organization must accept the Carequality terms and conditions agreement.
 
To learn more about Commonwell Health Alliance, click here.
Carequality and Commonwell RLS Services
A Record Locator Solution (RLS) is an add-on service that can assist in making more refined queries. RLS offers functionality to find records based on search criteria, such as geographic location, person's ID, data type, and other information. See the Functionality tab for a description of RLS.
Both Carequality and Commonwell offer an RLS solution to assist EHR vendors, and other members of these initiatives, in offering RLS to their customers.
Commonwell provides the Commonwell RLS, which is a service component included with Commonwell membership. Commonwell also offers its RLS as a subscription service to Carequality members. The RLS provides patient listings from all Commonwell members, as well as all Carequality members who subscribed to the Commonwell RLS.
What it means for providers who use a Commonwell-enabled EHR and have a Commonwell - Carequality Connection
They can use the Commonwell RLS to query patient data from providers who have either a Commonwell-enabled EHR, or a Carequality-enabled EHR with the Commonwell RLS.
Carequality members have access to value-added services which are predominantly provided by the Surescripts National RLS (NRLS). Alternatively, their members can select another RLS, such as the Commonwell RLS, or can subscribe to multiple services such as the Surescripts NRLS and Commonwell RLS.

What it means for providers who use a Carequality-enabled EHR and both the Surescripts NRLS and Commonwell RLS 
They can use the RLS to query patient data from providers who have either a Carequality-enabled EHR, or a Commonwell-enabled EHR with the Commonwell - Carequality Connection.

RLS Limitations
RLS solutions aren't necessarily perfect in searching for patient records that might be accessible via the Query HIE Network without the utilization of RLS. RLS may not have access to all available records, and vice versa, an RLS may find records that aren't retrievable via Query HIE. For instance:
      Providers with a Commonwell-enabled EHR who enabled the Carequality Connection may encounter these search failures:
Commonwell RLS doesn't include providers with a Carequality-enabled EHR who didn't subscribe to the Commonwell RLS
      Providers with a Carequality-enabled EHR may encounter these search failures:
Surescripts NRLS doesn't include providers with a Carequality-enabled EHR who didn't subscribe to Surescripts' services
Surescripts NRLS includes providers who subscribed to Surescripts's services, but don't have a Carequality-enabled EHR
Commonwell RLS includes providers with a Commonwell-enabled EHR who didn't activate the Carequality Connection