There are four ways to connect to the Mass HIway to exchange health information and report public health data via Direct Messaging. Any of these methods will enable you to communicate with other care providers who participate in electronic Health Information Exchange.
Your HIway Account Manager can help you select the best HIway connection method(s) for your organization.
 Connection Method
 Description
 Direct
 Connect your EHR system directly to the HIway
 Connect Device
 Connect your EHR via a secure physical device

(previously known as LAND Appliance)

 HISP
 Connect your existing HISP connection to the HIway
 Webmail

  Communicate via Mass HIway Webmail without direct access from your EHR

 Read the Mass HIway Webmail Quick Reference Guide and/or Webmail Training User Guide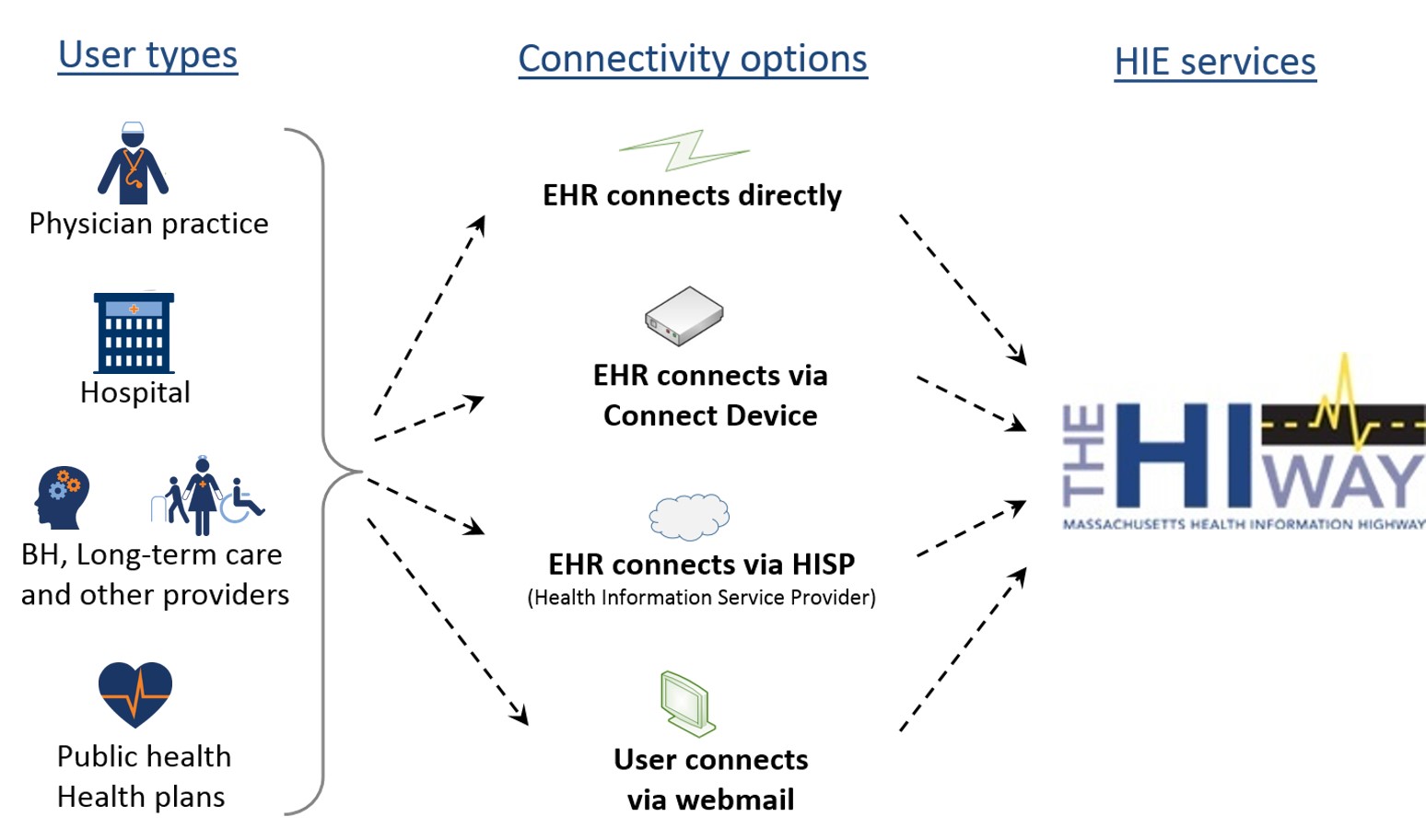 Selecting a HIway 2.0 Connection Method
Determining which connection method is best for your organization will depend on the technical capabilities of your EHR system, the volume of data you intend to transmit, and the selected HIE Use Cases. The table below provides further information that can help in deciding the best option for your Mass HIway based HIE solution. To enlarge the table or download it as a PDF, click here.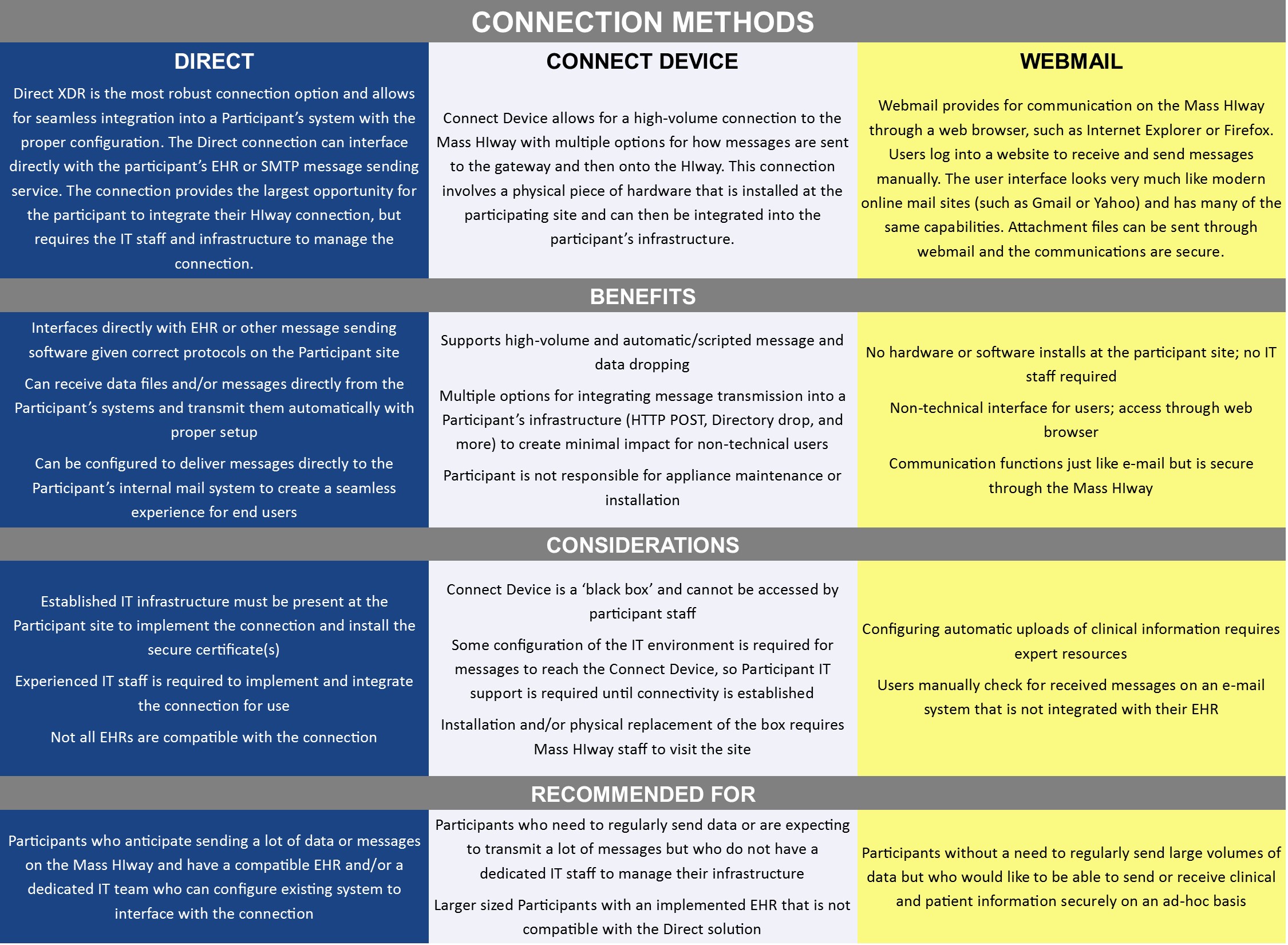 Resources
Review the resources below to learn more about Mass HIway Webmail.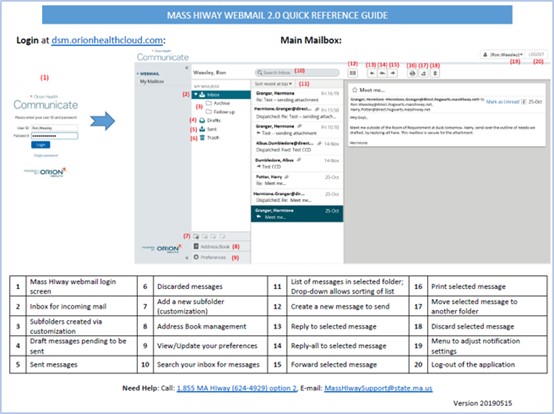 MASS HIWAY WEBMAIL QUICK REFERENCE GUIDE
Use this tool to get a quick overview of how to use Mass HIway Webmail. Print this guide and hang it next to workstations so staff can refer to it when needed.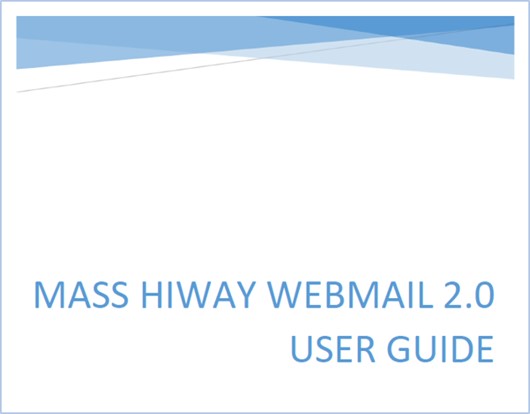 This guide will provide you with the details of all Communicate Webmail functions. Great for IT managers and those responsible for workflow/staff training within your organization.